lunch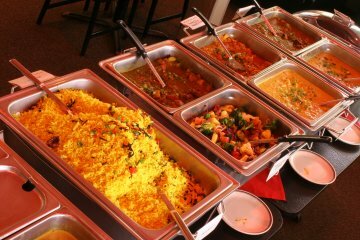 ---
SHAMIANA BUFFET
---
Choices abound at Shamiana's buffet. Enjoy a fresh, flavorful and fast lunch. Two soups, three salads, world-renowned Major Grey Chicken Curry everyday! Two other meat entrees, two vegetarian entrees, pulao, dal, raita, mango yoghurt mousse and fresh naan delivered right to your table.
What could be better?
Full Buffet
$11.95
Vegetarian Buffet
$10.95
---
INDIA....
Served with pulao and raita
---
TANDOORI CHICKEN
Boneless chicken breast marinated in a tangy and flavorful yoghurt sauce - colored traditional red, then flash cooked in our tandoori oven to seal in the juices..
$12.95
KEEMA KABOB
Flame broiled minced beef kabobs seasoned with onions and chilis.
Accompanied with a cool yoghurt sauce.
$12.95
TIKKA MASALA CHICKEN
Slices of tandoori baked chicken breast sautéed in tandoori cream sauce.
$12.95
MASALA GINGER LAMB
Tender chunks of lamb simmered in masala curry paste with fresh slivered ginger.
$11.95
SAAG PANEER
Spinach pureed with coconut milk and spices and tossed with homemade Indian cheese.
$10.95
BUTTER MASALA PANEER
Cubes of homemade Indian cheese in a smooth rich masala cream sauce.
$10.95
VEGETABLE CURRY
Mixed vegetables steamed until crisp-tender in a light Indian five-spice sauce.
$9.95
---
...and BEYOND
---
MAJOR GREY CHICKEN CURRY
Tender slices of chicken sautéed with Major Grey Mango Chutney and cream
make this curry smooth, rich and slightly sweet.
$12.95
SHAMIANA PRAWNS
Prawns sautéed in a zippy masala, lemon and coconut sauce with green onions and coriander.
$13.95
CORIANDER GINGER CHICKEN
Tender breast of chicken marinated in garlic, ginger and fresh coriander, then flame broiled.
$12.95
EGGPLANT HASHMET
Slices of grilled eggplant topped with raita, tomatoes, red onions, fresh coriander and pistachios.
$10.50
---
SOUPS, SALADS & BREAD
---
MULLIGATAWNY SOUP
A rich chicken, lentil and rice soup with Indian curry spices and finished with a hint of lemon.
sm $3.95 med $5.95 lg $7.95
VEGETARIAN SOUP
We do a variety of them - ask about our current offering.
sm $3.95 med $5.95 lg $7.95
MIXED GREEN SALAD
Seasonal mixed greens, red and green onion, cucumbers, peppers and hard boiled egg - tossed with a zesty curry dressing and chopped pistachios.
sm $5.95 lg $8.95
NAAN
A lightly leavened homemade Indian bread cooked in our searing hot tandoor oven.
Plain: no butter or seasonings
$4.25
Traditional: brushed with clarified butter and sprinkled with nigella seeds
$4.95
Garlic: brushed with garlic-coriander butter
$4.95
PAPADUMS
Two crisp fried lentil flatbreads
$2.95
---
Rice, Dal & Chutney
---
PULAO
Basmati rice seasoned with turmeric, cinnamon and cumin.
Small $3.50
Large $4.50
BASMATI RICE
Plain basmati rice
Small $3.50
Large $4.50
DAL
Red lentils cooked a variety of ways - ask about today's special
$7.50
CHUTNEY SAMPLER
Trio of chutneys: Coriander-Green Chili-Coconut, Sweet Mango Chutney, and a Special Chutney of the Day.
$4.50